Your solicitor-checked online will in 3 easy steps
1
Answer a straightforward set of online questions
2
Review, and only pay when you are happy
3
Solicitor check and receive your will by email or post
A Digital Will for Life
Updating your will
Log in and make changes to your will for 28 days for FREE or choose lifetime updates for just £10 a year.
Once you have started making a will online, you can sign in and continue at a time that suits you. You will find full guidance throughout the process, explaining all of the important legal terms relating to wills and probate.
When you have finished making your will online, you can login and make free changes to the document for 28 days. For even more peace of mind, our optional lifetime updates service (just £10 per year) allows you to keep your will up-to-date forever.
Get Started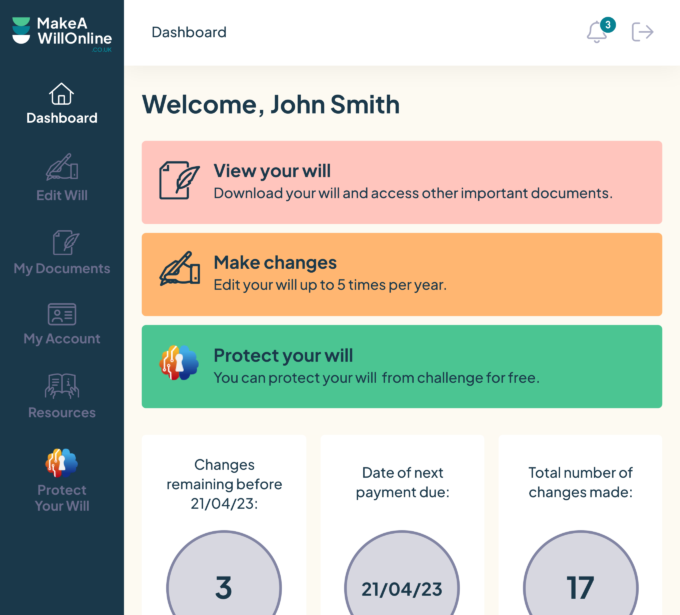 £2,000,000 professional liability insurance for your protection.
Your will printed, bound and posted for just £15.00 per document.
Members of the Society of Will Writers.
Money-back guarantee if you are not completely satisfied.
Why choose our
will writing service?
With Make A Will Online, you get the peace of mind of knowing a solicitor has checked your will. Anyone can call themselves a "will writer" or offer a "legal check". A solicitor, on the other hand, is a qualified legal professional.
We are the only online wills provider to offer this service and have been granted an Innovation Space Waiver by the Solicitors Regulation Authority to do so. We believe that this offers you the best possible peace of mind for the best price.
Make a Will Online
Traditional
Solicitor
Will
Writer
Single will
£60.00
£200.00
£100.00
Pair of wills
£90.00
£350.00
£170.00
Solicitor check
Yes
Yes
No
Insurance
Yes
Yes
Unknown
Lifetime updates
Yes
No
Unknown
Money back guarantee
Yes
No
Unknown
Available 24 / 7
Yes
No
Unknown
Awards
British Wills & Probate Awards 2022
Gifts in Wills for charities
We work with dozens of Charities across England and Wales
We work with dozens of charities on their gifts in wills campaigns. If your charity is interested, find out more about a Fundraising Regulator compliant legacies campaign.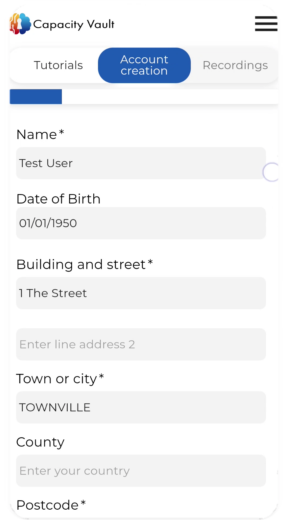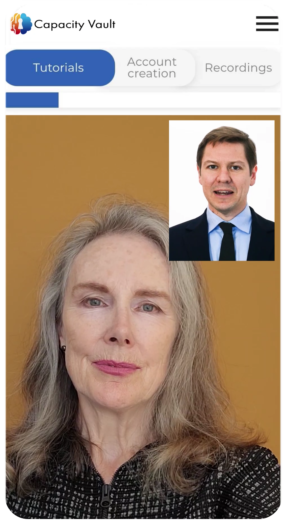 Our Other products
Protect your will
from challenge with
Capacity Vault
It's free for users of Make a Will Online.
Capacity Vault lets you make a secure digital record of your testamentary capacity and protect your will from challenge.
Learn More
Make your will online today…
On the bus, at home or on your lunch break!
Get Started
Frequently Asked Questions
How does the will-writing process work?
Before you start the will writing process you should have the name and address of anyone you intend to name in the document. Postcodes are useful too, but not essential. You will be sent a link by email in case you need to come back at a later date to complete the will.
Wills for UK Expats
Our wills are fully legal in England and Wales, but the situation becomes more complicated if you are resident abroad, or own property overseas.
Different countries deal with inheritance law differently and you should consult an expert on local law in the country in which you live.
From the Blog
Winner - Making a Difference in Legacy Giving 2023 Award
Read Article