Gifts in wills are worth over £2.8 billion each year to UK charities. This figure is growing. 36% of the general public said they would like leave a gift in their will but only 6% of them actually do it. We want to help you and your supporters by making it easier for supporters to give.
Charities of all sizes use makeawillonline.co.uk's solicitor checked wills service to generate and monitor valuable gifts in wills. Your supporters can easily make a will and leave you a gift. You get monthly reports with detailed analysis of pledged gifts.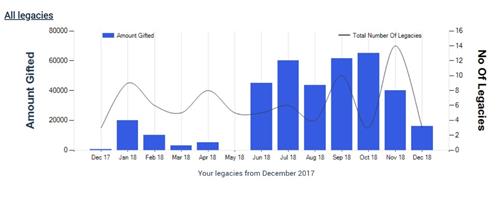 What we offer you:
We provide you with reports on how much and when supporters leave gifts in wills
Professional will-writing service for supporters, available 24/7/365
Every will checked by an experienced solicitor – you pay only £29.50 per will
Easy to give, easy to see:
See https://www.makeawillonline.co.uk/legacy-fundraising-online-wills for more info.
Key points:
Pay £29.50 only when a supporter completes a will. A typical gift can be £5,000-£15,000.
No additional fees for tracking and analytics.
Offer your supporters a free, low hassle, solicitor checked will writing service.
Industry leading online will-writing service with £2m professional indemnity, developed by experienced will writers, solicitors and barristers.
A tale of two supporters – turning intentions into gifts: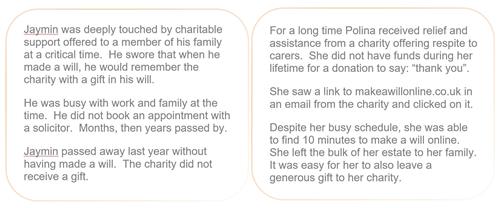 How it works – no setup costs, no minimum spend, you only pay for wills made:
We will create a personalised page on makeawillonline.co.uk especially for your charity. The web address will look like: makeawillonline.co.uk/yourcharity;
Using this page, your supporters complete our simple, confidential online will-writing process, there are multiple prompts throughout to leave a gift to your charity;
Our solicitors check ever will and we send a copy of the will to your supporter. Details of the gift (including when and how much) will be accurately tracked;
We don't charge your supporter anything for the will. We will invite them to donate a cash sum to your charity (e.g. via justgiving) to cover the cost of the will;
At the end of the month we automatically send a report showing all activity and we invoice only the cost of the wills produced: £29.50 per will.
The process is transparent and represents excellent value for your charity. It is compliant with the Fundraising Regulator's rules. You pay no set up or subscription fees and only pay us a small fee per will when a supporter makes a will.
To find out more, see https://www.makeawillonline.co.uk/fundraising-online-wills or contact Oliver Asha: oliver [at] makeawillonline.co.uk or call 020 7193 2747