40% of charity supporters say they'd like to leave a gift in their will. However, only 8% of people actually get around to doing it.
How can you improve the odds for your charity?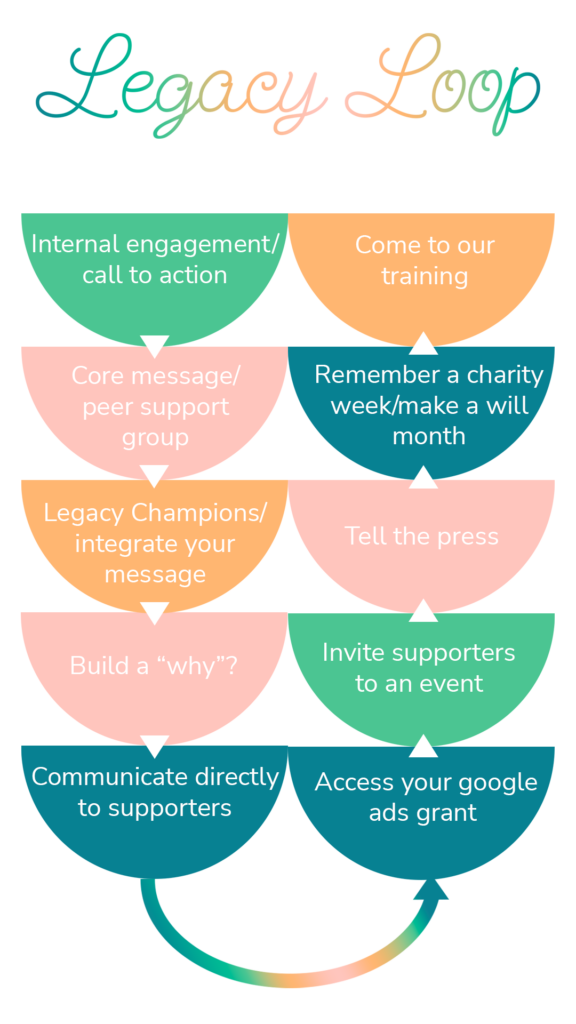 Whether you are just getting started or giving an existing campaign a boost, this is where to start
Getting started
Celebrate your achievement. Let your colleagues (including volunteers and trustees) know that you've launched your free wills campaign. Internal engagement is incredibly important. We can attend any internal engagement sessions to help explain the importance of gifts in wills.
See our internal engagement resources.
Settle upon your core message to supporters. What is the best message or phrase to let them know that they can leave a gift, however small, and it will be gratefully received (e.g. Did you know – if you leave just 1% of your estate to charity others closest to you receive 99%). Again – ensure all of your colleagues are engaged.
Check out our landing page guide for tips on creating a call to action that converts.
Sign up with peer support groups for gifts in wills fundraising – a good stating point is the Legacy & In Memory Special Interest Group.
More about the Legacy and in-memory SIG.
Legacy Loop LinkedIn Group
To help support the Legacy Loop monthly sessions we have a Legacy Loop LinkedIn group. This is a closed group only available for our charity partners.  You can access the group using this link.  If you would like to join, use the 'request to join' button. It's an additional way to keep you informed and for you to be able to ask questions and share ideas.
Core tasks
Gather legacy champion stories. Ask those closest to the charity who has left a gift in their will. Find out their reasons.
Get consent to share with other supporters. You'll learn more about your donors and get priceless stories that can be used in your gifts in wills communications.
More about legacy champions.
Integrate a gifts in wills message to all your communications. Requests for a cash donation in every email, newsletter or letter is considered "normal". Why not educate supporters too – let them know that they can leave a gift in their will?
Check out our email footer guide.
Start building the why for your gifts in wills campaign – and communicate that. Have you received any gifts in wills? What have they allowed you to do which you wouldn't otherwise have been able to achieve? What would you do if you received a small handful of gifts (bear in mind a typical gift can be worth £30,000).
Amplify the message
Communicate a specific gifts in wills message directly to supporters. Schedule an article in your newsletters. A feature in the first, followed by a short piece in each newsletter after that.
Access the $10,000 monthly Google Adwords Grant and devote some or all of this to your gifts in wills message. Our in-house experts can help.
More about getting the most from a Google Ads grant.
Invite supporters to an event. Either over video conference or (if safe to do so) in person. Think about engaging new pledgers and "stewardship"(keeping those closest to you engaged).
Check out this press release template.
Engage your supporters with our marketing materials. Download and print a leaflet (page 1, page 2) explaining our service.
Review and iterate
Plan some communications to tie in with Remember a Charity Week and Make a Will Month. This is usually held in September/October. It is accompanied by a nationwide campaign and ongoing publicity. There are annual seasonal peaks in will making activity in Spring and Autumn.  Book time out in your calendar to review in advance so that your campaigns are ready to take advantage of these natural seasonal peaks in will making.
Review your integrated messages and refresh as required. Plan to review what worked well or didn't perform as expected on an annual basis and make the necessary changes to ensure your campaigns are current and aligned with the latest marketing trends to enable them to grow year on year.
Training offers
Take advantage of our training offers and come along to our regular informal Legacy Loop sessions.  If you would like a specific topic to be discussed or if you have anything you would like to share – perhaps there's something that you'd like to celebrate which has worked well or you'd like advice on something in particular, email through to marie@makeawillonline.co.uk

Legacy Loop January 2024 – Charity Claim Checker – IDR Network with Martin Holdsworth, CEO IDR Law – 11th January 2024 @ 11am
When a claim letter arrives, it can be a worrying time for Legacy Officers, and there are many complex issues to consider when dealing with a legal challenge.  Come along to this session and find out how the claim checker provides instant support to help you understand the facts and evaluate the claim.  It's an online tool designed to guide Legacy Officers through these tricky situations, giving an immediate assessment of 1975 Claims Act and provides an answer on whether the claim has merit.
Legacy Loop – December 2023 – Xmas Break
Legacy Loop – November 2023 – Video like a TV Pro
Legacy Loop – October 2023 – Death to Distribution
Legacy Loop – July 2023 – Open Forum & Networking
Legacy Loop – June 2023 – Smee and Ford Data – Pros and Cons
Legacy Loop – May 2023 – Comms planning
Legacy Loop – April 2023 – How and Whom to Steward
Legacy Loop: March 2023 – Internal Engagement
Legacy Loop – February 2023 – changing behaviour and making connections with the right messages
Legacy Loop – January 2023 – building a legacy pipeline
Seminar resources
February 2023 Webinars
March 2023 – internal engagement resources
We were joined by Mike Flaherty from the North Wales Wildlife Trust who shared how he approached internal engagement at the Trust.  Take a look at his slides below.  He also shared his Front Line Legacy Enquiry Form.
Marie
shared an internal engagement resource which charities can download and make their own to help engage staff internally and start the conversation about the importance of gifts in wills.
Marie
also shared the 7 things to consider for Landing Pages – use this tool to help you get focus on what you want your landing page to achieve.
April 2023 – Who and How to Steward – Resources

We were joined by Clare Sweeney of Keepace Consultants who presented '
Who and How to Steward – taking care of legacy givers
'.  The session was very well received.  If you missed out or want to recap,
watch the recording
and download the slidepack:
May 2023 – Planning a communications campaign
Alex Hammond from Digilegal introduced the OASIS model of communication campaign planning and gave some digital marketing tips. Check out the video.
June 2023 – Smee and Ford Data Pros and Cons presented by Chris Lincoln
Chris presented on the pros and cons of using Smee & Ford's data to support the growth of legacy income across charities of all sizes and causal areas. Chris provided sector-wide insights and an interactive demonstration of a dashboard that had been custom-built exclusively for our webinar.  Check out the video and presentation.
July 2023 – Open Forum & Networking – 'Someone has pledged – what next?'
We were pleased to run an open forum discussion session this month which focused on the submitted discussion topic of 'Someone has pledged – what next'.  Thank you all for joining and taking part in the discussions, it was interesting to find out more about how you approach this.  Check out the recorded session.
Marie put together some power-point slides on the main points and ideas that came up.  You can use this to help register what you already do in this space and how – plus add planning items that you want to develop in the future.  You can download the slides here.
October 2023 – Death to Distribution – Improving understanding and communication between legacy managers, law firms and executors
We were joined by Matthew Lagden (Institute of Legacy Management) and Sarah Husbands (Lawyer – Digilegal).  It was lovely to welcome so many of our charity partners and members of the ILM to the session.  The aim of the session was to help improve understanding and communication between legacy managers and law firms/executors.   Thank you to all that joined and for your input and the questions that you raised – very interesting session.  Matthew and Sarah brought their wealth of experience to discuss the following topics below.  Check out the video recording and the summary slide pack.
Pre-probate: what's involved in getting a case ready, what causes delays
Notifications: when and from whom
Best practice for communications and contact
Distribution of estate: common reasons for delay and retention
Fee scales: what to expect and what to ask the solicitors
Case scenarios: best and worse cases from a probate, charity and law firm perspective
Guidance for "thank you's"
Questions and discussion

November 2023 – Video like a TV Pro – with Brilliant Trees Media and Keepace Consultants

We were joined by Susanna Boccaccio, Director of Brilliant Trees Media and Clare Sweeney of Keepace Consultants.   It was fascinating to learn more about the potential of video and gain some real practical tips on how easy it can be to make your own video in a professional way.  Plus gain some insights into some of the real experiences that Susannah and Clare have had recently filming at charities.   The whole process that's involved and how engaging an experience it can be for everyone involved within charities was wonderful to hear about.  Please find the recording of the session here plus the slide pack too.  If you have any further questions please contact Susanna and Clare directly – you'll find their contact details at the end of the slide pack.
Here's the link to the recording – https://youtu.be/ZJ_4v4WZFkw